Decorating With … Demi-johns
Our current selection of antique & vintage, hand blown Demijohns sourced in France and Belgium, have a surprisingly modern appeal considering their age and history. For display they can equally be at home in minimalist and contemporary interiors or add a lovely antiquated look to any room. The dreamy elegance of the Demijohn makes it a hugely versatile decorative piece and a favourite of Quintessential duckeggBLUE.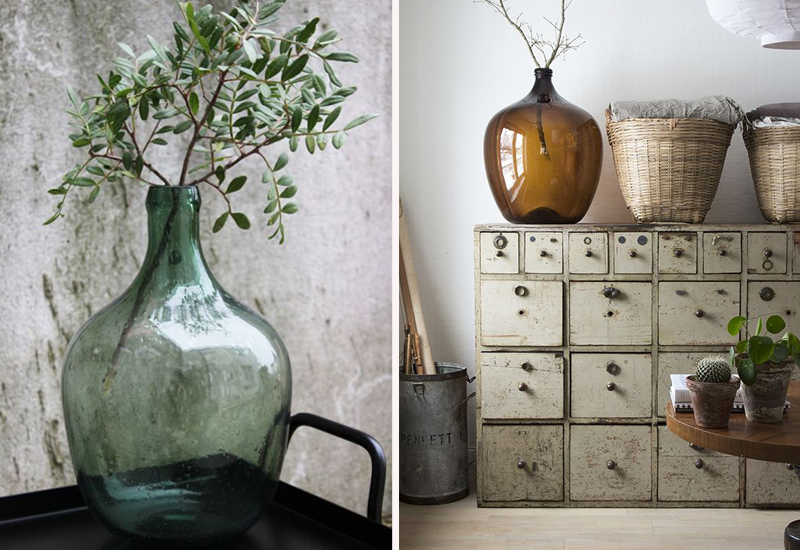 The Demijohn has been around for hundreds of years and was originally used in Europe to transport liquids usually wine and liquor but also oils, cider, molasses or anything that couldn't be transported and preserved in wood.
Today, without their original wicker casing they are highly sought after as decorative objects because of their beautiful colour and shape.  Antique Demijohns come in a gorgeous range of colours and currently our collection includes sea green, bottle green, olive and emerald through to turquoise and clear. Usually the colour will reveal the bottles antiquity as well the small air bubbles within the glass that indicate they are hand blown.
At quintessential duckeggBLUE we particularly love displaying Demijohns in a collection but they are just as enchanting as stand-alone pieces. For the display of branches, foliage and blooms, they are perfectly suited. Perhaps a small trinket or valuable can be displayed inside or your very own message in a bottle?
There are endless variations on how these eye-catching vessels can be incorporated into the home interior but they will be sure to add a delicate but striking feature to any room, that we believe, only the exquisiteness of antique hand-blown glass can bring….
Visit our store or check out our collection on-line today and choose from our beautiful collection. View Here
---