Decorating with…Vintage Trunks and Cases
At quintessential duckeggBLUE the thing that we love most about decorating with Vintage Trunks & Cases is that they immediately recall a previous life of travel and movement. Of all the found antiques and decorative objects we are hard pressed to think of many that have had the same adventures as gorgeous steamer and cabin luggage, metal deed boxes, military trunks and bespoke antique and vintage chests!
The enduring appeal of Vintage Trunks and Cases is the incredible workmanship in the pieces themselves. The unique patinas, insignias, travel stickers and tags, makers marks, rich leather, metal studding, brass bound decorations and locks, handles,belt and straps all imbue these objects with a worldly nonchalance. So not only do they speak of another time through their historical association but also through the rich detail and craftsmanship in their manufacture.
There really is nothing quite as stylish and practical as using beautiful vintage trunks and chests in the home as both excellent storage and as useful surfaces; they are fabulous as coffee tables, bedside tables, bedroom seats, hallway stands or in a childs room. There is a sense of freedom and fun in having trunks and luggage displayed in the home and a suggestion (however imaginary!) of some upcoming, very stylish adventure.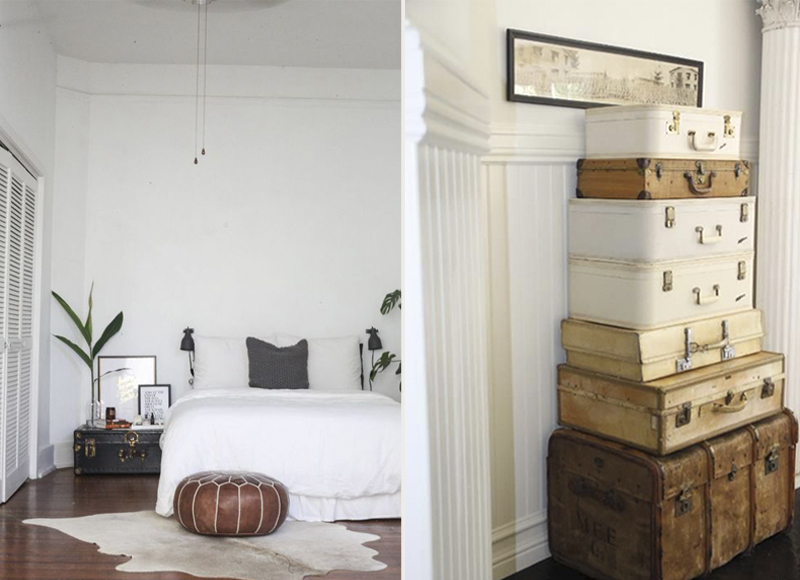 Cabin trunks or Steamer trunks were of course today's equivalent of carry-on luggage but in a time when travel was really only enjoyed by the very well heeled or the very famous and fabulous!
Generally Travel trunks are differentiated from chests in their robust construction, due to their intended use as luggage, not just pure storage. Similarly Deed boxes are often even more robust in structure, often constructed in metal and sometimes made to withstand fire and flood! Again the patina and detail on these boxes and chests make for beautiful display in the home as well as being fantastically useful.
The display of Vintage Trunks and Cases in the home can suit many interior styles. Interestingly depending on the specific piece they can suit the most masculine man cave to the prettiest of living rooms!
In the display of Vintage Trunks and Luggage we love the particular warmth that the patina of aged leather always brings to any space.
Similarly the deep colours and beautiful craftsmanship in many metal chests and trunks bring a visual strength and depth to any room.
Like all great, dare we say , quintessential design pieces , Vintage Trunks and Cases are hugely versatile and classically beautiful..  with a little bit of adventure and old school glam mixed in!
We currently have an exceptional collection of Vintage Leather Trunks and Cases in store (and featured in our current window display!)
These gorgeous items will seriously not last long! Browse here or view in store today to choose the perfect one for you…
---