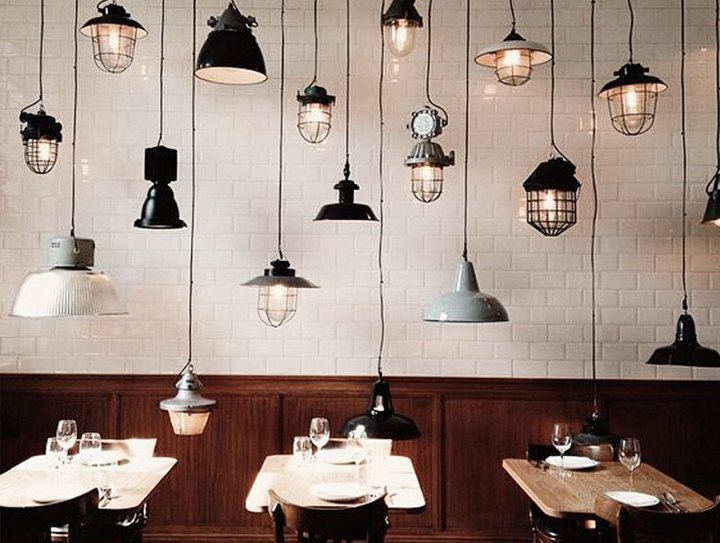 The appeal of Industrial Vintage Lighting is something that, at quintessential duckeggBLUE, we never tire of. Let us count the ways … Versatile, elegant, structural, modern with the generosity and richness that only history and age can bring. Our beautiful enamel shades and unusual pendants, lamps and globes have lit up factory floors, Parisian streets, country barns, Cold War bunkers, European arcades and town squares and that's just naming a few!
Industrial lighting was often designed to withstand "hazardous" environments" (sometimes even "explosion proof"!!). Without sounding too alarming, these environments were usually just the industrial or outdoor sites they were originally designed for. Today, the modern home interior may not need this level of robustness, but we like to think these lights always bring a strong industrial edge and strength to any room.
They first gained contemporary popularity in hip New York lofts and artist "factories" (Andy Warhol and his voluminous painting studio/"factory" come to mind) and have since come to signal a certain pared back, effortless cool.
Like all great design pieces they are also extremely flexible. We love them in farmhouse inspired interiors as they immediately stop any inclinations towards the fussy or twee. There is a understated elegance to industrial lighting that is perfectly at ease in most interior environments.
The arrangement of industrial lighting in the home can range from the quite formal to equally casual and relaxed. We love them displayed in a row over a table or bench top. They also look great as stand alone features in hallways and bathrooms. Depending on the size of your living area, a large pendant or shade will always add some grandeur!
Original reclaimed Enamel shades come in a lovely range of colours and styles such as charcoal, black, cream, white, pale blues, greys and vintage greens.
They often have worn rust patina marks which, apart from giving character and looking nice, also portend their age and add a warmth to any space.
Original features can also include manufacturing marks or stickers. Most importantly they have a particular sheen that only vintage paintwork on enamel can imbue.
It is no surprise that, with its utilitarian origins, industrial lighting also perfectly lends itself to commercial spaces.
Many of our industrial shades, pendants, globes and lamps from over the years are now found within retail and hospitality spaces throughout Sydney and beyond.
This may also be due to depending on the height they are hung, Industrial lighting is very versatile in either illuminating broadly or in a very directional manner.
We believe, industrial lighting has all the signatures of great design … strength, character, functionality and of course beauty … Illuminating indeed!
We currently have a great array of industrial lighting in store sourced from England, France and Belgium and fully rewired to Australian standards.
Check out quintessential duckeggBLUE's collection of industrial lighting here.
---